LotLinx TURN™ brings you the power to develop, execute, and manage targeted digital campaigns for each vehicle in your inventory, across multiple digital channels and media types. Then, importantly, LotLinx TURN enables you to put those vehicles right in front of the low-funnel now buyers who are looking for them.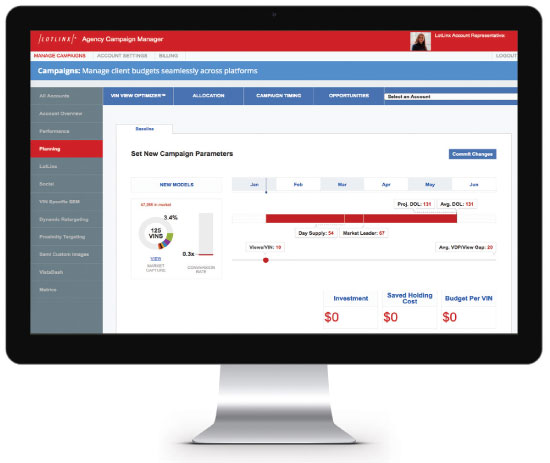 Before LotLinx launched the VIN View Optimizer®, dealers had little visibility into which VINs on their lots were being viewed online, and how often.
Now with LotLinx TURN, dealers can marry VIN view data with budget insights to create a full picture and powerful action plan to maximize sale velocity, VIN by VIN.
Four Metrics To Drive a Dealer's Online Success
There are four critical metrics that impact ROI for a specific VIN — Number of Vehicle Details Page views, Ad Spend per VIN, and Days on Lot. The LotLinx VIN View Optimizer empowers dealers with these metrics so they can determine an effective promotion plan for each VIN.
1. VDP Views and Conversions
Using the VIN View Optimizer (VVO), LotLinx enables dealers to understand which VINs are not receiving a sufficient number of shoppers ("30 in 30"), to optimize inventory TURN.
2. VDP Engagements
Evaluating which sources of traffic drive key engagements and conversion activities are essential to any dealers' marketing plan.
3. Ad Spend per VIN
The VVO also enables a dealer to understand the actual dollars spent per VIN across SEM, AutoTrader.com, Cars.com, and soon CarGurus.com, and reallocate dollars to VINs that need it most.
4. Days on Lot
Finally, correlating DOL to VDP views and spend per VIN gives a dealer the final data point needed to determine where to re-allocate ad spend to drive sales velocity.

Once a dealer has insight into which VINs need attention, LotLinx has a robust suite of omni-channel products to deliver traffic to each VIN.
Learn about our powerful product suite offered within the LotLinx TURN platform
LotLinx VS - Omni-Channel
The baseline for driving shoppers to your VDPs. By allocating $39.90 per VIN, LotLinx Core will Deeplink 10 shoppers as they indicate make/model/ geo declarations on automotive sites/content and Facebook.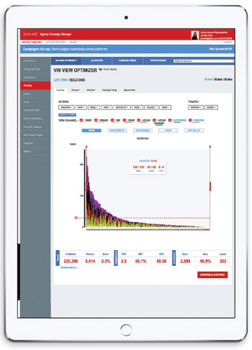 The VIN View Optimizer is the heart of VIN-specific campaigns. Analyze VDP views. Surface business insights. Build campaigns to drive sales.
After a baseline of shoppers visit your VDPs, you can maximize sales velocity with these additional products:
LotLinx VS - Facebook
Running a LotLinx VS - Facebook campaign twice a month will deliver a strong surge of views to the VINs most in need of attention, such as aged, under-exposed or bonus tag VINs.
LotLinx VS - Lead-Enabled Retargeting
LotLinx will retarget your new car VDP shoppers, prompting them to re-engage with a specific VIN they've previously viewed by presenting a pre-populated lead form on Facebook.
LotLinx VS - Retargeting
Retarget shoppers from any campaign that generates SRP/VDP views.
LotLinx VS - Search AI
Used VINs that need to move can receive a boost of paid search with the industry's only VIN-Specific SEM platform.
LotLinx VS - Conquest
Increase your reach in ZIP codes of greatest strength, or in those where you need to address a competitive disadvantage.
NEW! LotLinx CX - Photo AI
Identify and populate appealing stock photos for inventory missing images online, for distribution to our advertising partners, increasing shopper interest and engagement.
To learn more about the products available in LotLinx Turn, Email US or call 205-265-1885 today.